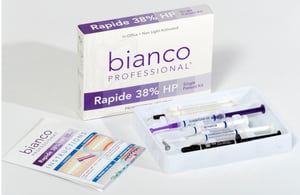 by Dr Frédérique Montpetit, Skygate Dental, Brisbane, QLD.
Bianco has a range of different whitening kits with varying peroxide strengths.We're seeing very good results with this 38% kit and our patients are very happy with the outcomes.
The Bianco kit is quick to use, easy to apply and my patients have not experienced any sensitivity. The process is so fast that it's very convenient for busy people who don't have a lot of time. We fit the patient with a lip retractor and then apply a protective gel to the gums. A second gel with a hydrogen peroxide activator is then applied to the teeth. This is applied three times for 15 minutes each time. If the patient is feeling a bit of sensitivity then the gel can be removed early and still supply a good result. We also use a blue light on the teeth to maximise the whitening. If someone has grey or yellow teeth, the Bianco kit offers a marked improvement. If the patient already has white teeth, the improvement will not be as dramatic but it will certainly freshen up their smile. My patients are really comfortable throughout the process and love the end result. At the start, they are often a little worried that it might not work as well as expected. However, every single patient has been impressed with the end results.
Where can you get it?
Exclusive to Gunz Dental
Read the full product review here:
https://bitemagazine.com.au/tools-of-the-trade-bianco-whitening-38-hydrogen-peroxide-professional-rapide-kit